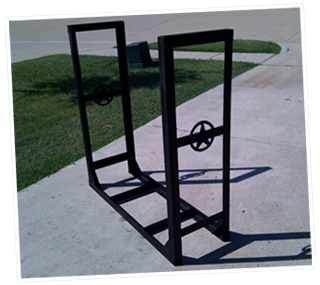 Mr. Firewood's Custom Wood Racks
Don't trek to your local store to buy a cheap wood rack that falls apart or won't hold a full or half cord of wood. Our racks hold exactly a half cord of wood — at 8' long x 4' tall x 16" wide — so you never have to worry about not getting the right amount of wood again. When the rack is full and stacked properly, the job is done.
Mr. Firewood's lightweight and durable racks are welded tight, braced right and painted with a coating — similar to truck bed lining — that resists rust and weathering.
Made with heavy-duty welded construction and top quality 2" x 2"x 1/8" thick angle steel, braced 12 times throughout the rack. Mr. Firewood racks are lightweight enough to move around easily, but still sturdy enough to keep your wood pile tidy. This is the best woodrack on the market bar none.
We even decorate racks with the popular "Lone Star" ring on each end.
At this time we're offering collegiate decor on our racks, for an additional $50.00 per rack. Most popular at this time are the A&M and the Texas Tech.
Firewood Rack Sizes
Half cord racks are exactly 8' long x 4' tall x 16" wide. Racks sit a few inches off the ground and will accomodate just about any size wood. Smaller racks designed to hold a 1/4 cord of wood are also available for $125, made with the same build, materials, and quality.
Mr. Firewood racks can be delivered in our local firewood delivery area.
Firewood racks are $175 each. Purchase 2 or more racks for a $25 discount on one rack. Order yours today!